Boardroom Plus
Australia's
'Best Practice'
Solution to
Board
Review
,

Director Capability Development

and

Board Transition and Succession

...
Boardroom Plus is a comprehensive, contemporary, online Governance Review and Development platform, designed to support, and successfully achieve, your annual governance review and development requirements.
Effective Governance based on actionable insights
We excel in delivering actionable governance data insights that empower Boards, Directors and Executives to cultivate high-performance capabilities.
Furthermore, we maintain constant vigilance on the evolving landscape of governance trends and issues, ensuring that our clients, including but not limited to Boards, Directors, and Executives, are equipped to function effectively, successfully demonstrate the required capabilities, and make meaningful contributions to their respective organisations.
What We Do
Independent Governance Review
Boardroom Plus is Australian 'Best Practice' Board Review and Director Development in the non profit sector.
It makes leading and internal governance review easy and highly effective.
As a fully supported SaaS platform, Boardroom Plus is unique in ensuring not only Contemporary and Professional Governance Risks are considered, it is continuously updated to reflect the latest changes in the highly regulated, nonprofit sectors
Types of Review Services
1. Board Governance Review: 45 minute assessment across professional, contemporary and your sectors governance risk categories.
2. Director Skills Matrix: Understand Director strengths, opportunities for development, or recruitment opportunities to risks that may disproportionately impact your organisation.
3. Facilitated: full-day of facilitation with an Independent governance expert.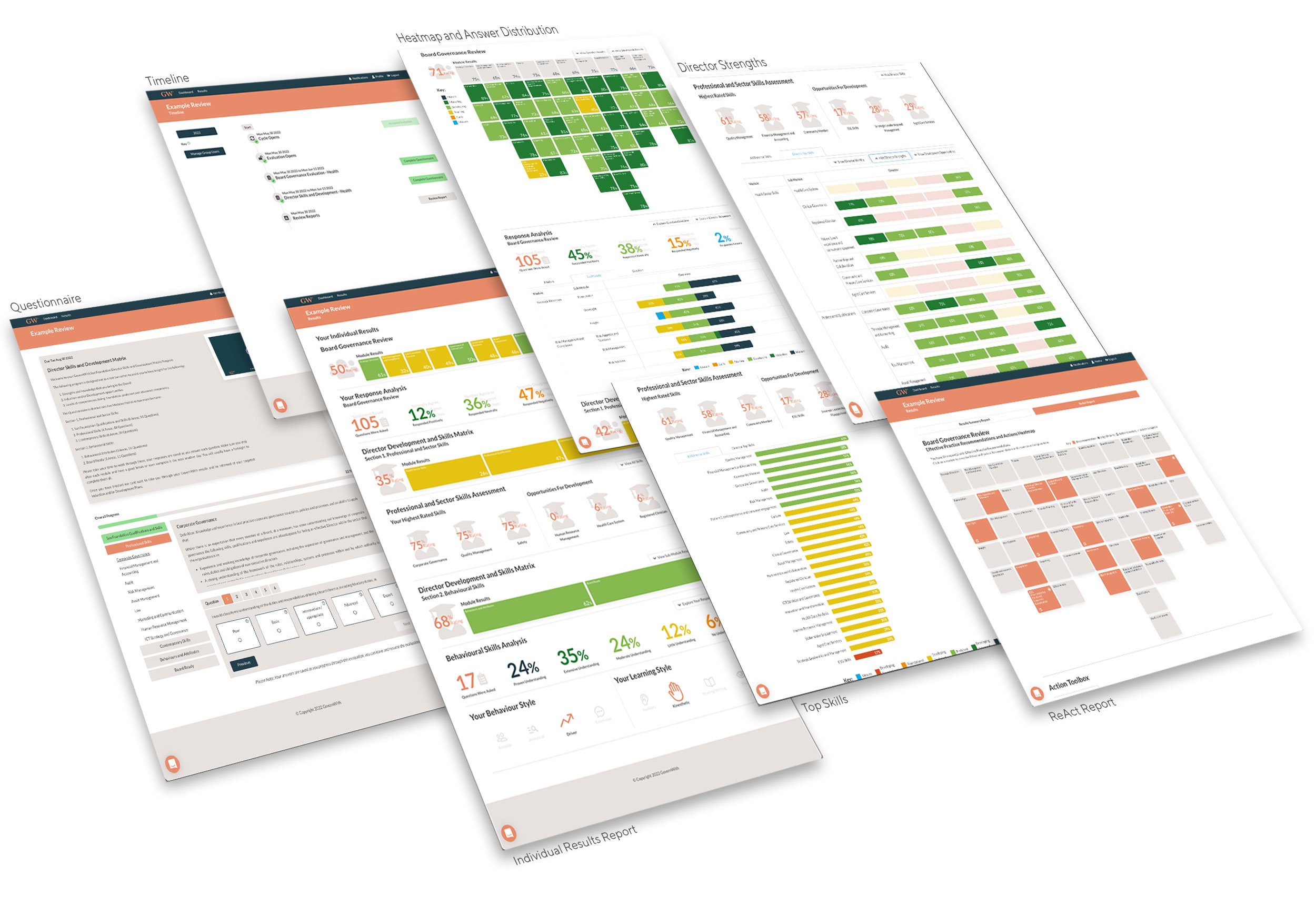 WHAT WE DO
Director Capability Development
Boardroom Plus instantly creates a 12 month Governance Program based on your Boards and Directors unique circumstances and exposure to Disproportionate (negative or positive) Impact
Deep, actionable, Insights and Recommendations are instantly available once Board Governance and Director Skills Matrix assessments are completed.
Actionable Governance
Automatically identify, target and action Board and Director Governance Capability gaps that will disproportionately impact (negative or positive) an organisation.
Fast and Effective
There is no faster or more effective way to transform an organisations governance capabilities to become a High Functioning Board.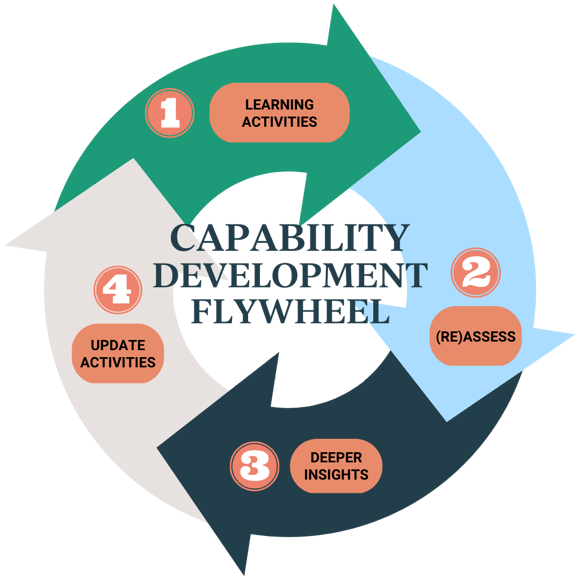 WHAT WE DO
Board Succession Management
Visually identify your Boards governance capability gaps and plan Board Succession in a click of a button.
Governance Leaders enables Plan, Recruit, induct and develop new members to the Board easily.
It is designed to help Boards remain High Functioning over multi-year periods.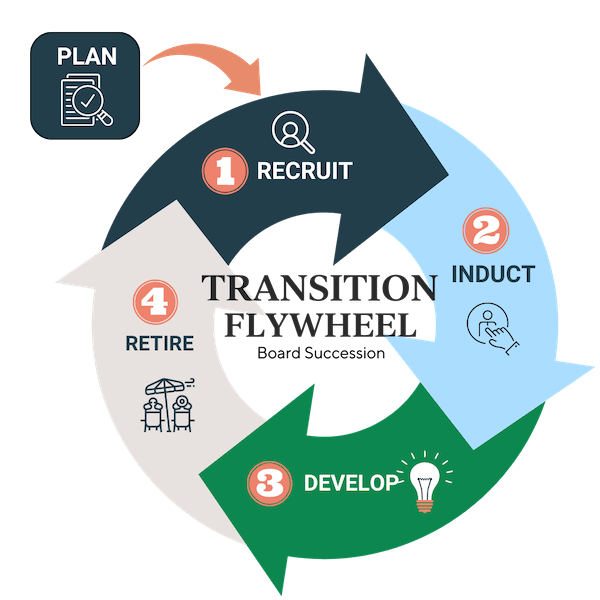 BLOG POST
How to have a conversation about Cyber Security in the Boardroom
The journey begins with the first step. It's currently one of the biggest risks. Now is the time to start talking cyber if you
Continue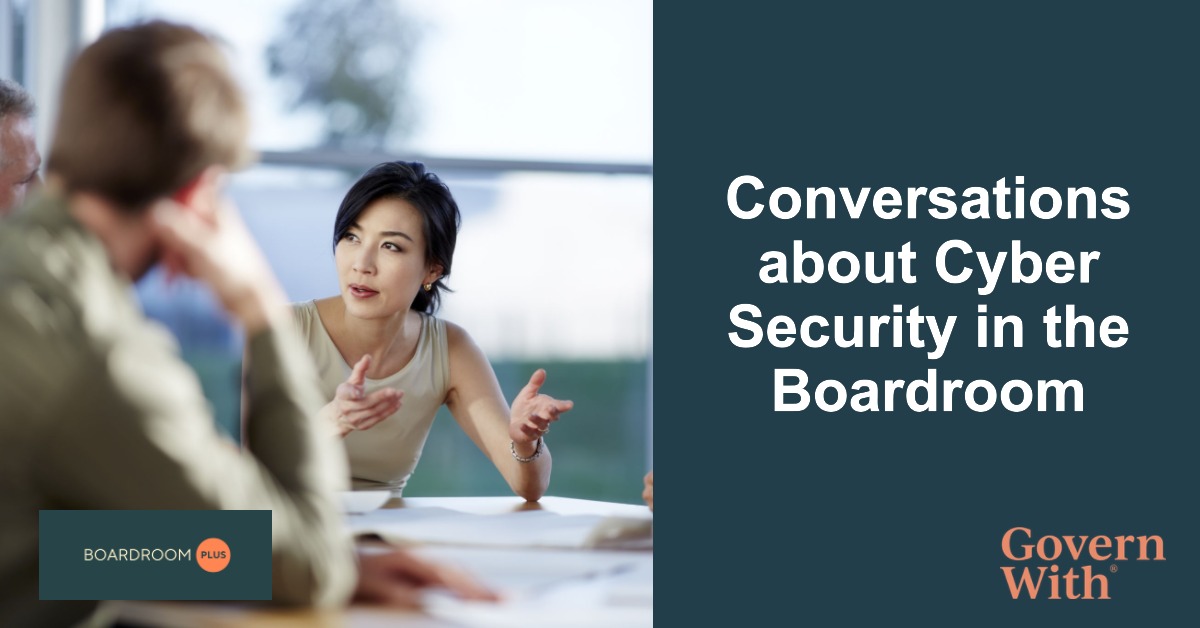 WEBINAR REPLAY
How to Manage Climate Risks to Your Strategic Plan
Climate expert Neil Plummer shares the latest data, insights and risks to non profit organisations in this compelling webinar.
Continue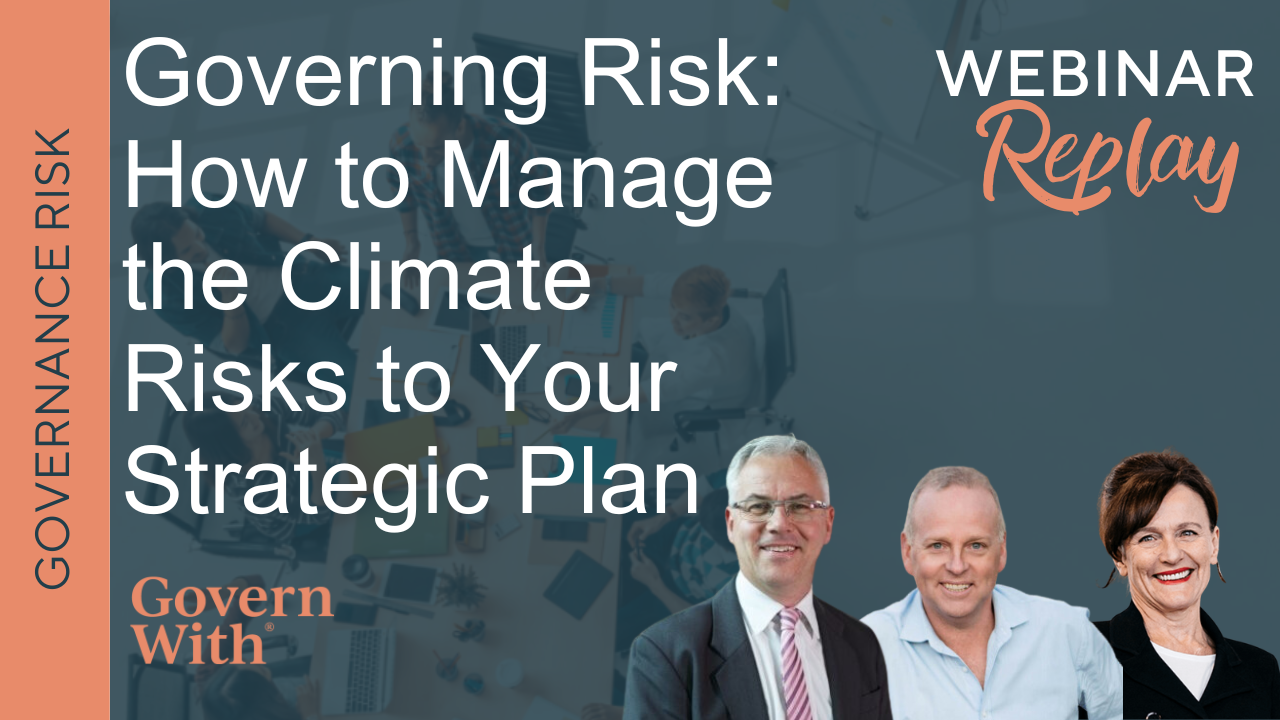 Deep Insights
Most Governance Data
With over 10 years in operation, 700+ boards evaluated and over 7,000 Directors assessed, GovernWith's growing data sets means more refined and deeper Insights.
With the new AI assisted, 'triangulated' Director Skills assessments means less subjective input data and higher quality results.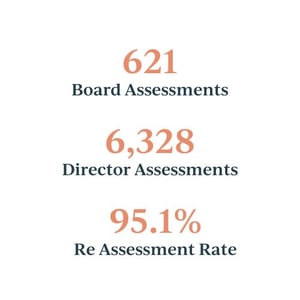 GovernWith is the only governance review, director capability development and board succession management service that includes assessments and reports that are specific to industry sectors.
"GovernWith has come such a long way - it is brilliant and exactly what we need"
"GovernWith Plus data supports well informed decisions about Induction, Whole Board and Director Development, Board Leadership Roles, Succession, Recruitment "
"GovernWith Plus aligns really well with what we do in Human Services organisations"
Actionable Governance
Tailored to unique circumstances and disproportionate impact, not generic governance
Sector Specialists
The only governance software provider to supply outcomes specifically for Health, Human Services, Aged Care, Education, Not-For-Profit communities.
Industry Leading Support
The Success process is designed to achieve your unique governance goals and includes your own dedicated Customer Success manager
Most Endorsed
Most endorsed Governance Review and Capability development technology in the Not for Profit sector, including NESA and CPD points.
Succession Ready
GW+ is the only provider to have Board Succession and Director transition capabilities built in as standard. It is the a key feature of BOARDROOM+.
Australia's Leading Governance Development Service
GovernWith is Australia's most complete and capable Board Governance and Director Review, Capability Development and Board Succession service.
The underlying technology was rebuilt from the ground up during COVID.
It is for Boards, Directors, Executives, Sub-Committees and Aspiring Directors who want to achieve their goals by becoming high functioning.
GovernWith supports the governance teams inside organisations in Health Care, Aged Care, Human Services and Education sectors.
What Makes GovernWith Different?
Actionable Governance: GW focusses Boards on what needs doing now. This ability to target governance capability needs quickly and build tailored plans of action for Boards, Directors and Executives means clients are working on what matters most in the most effective manner.
Sector Specific: Not only is GW built on the most comprehensive foundations of Governance models frameworks and standards, it is the only provider to incorporate Sector Specific questioning into assessment process which in term provides Sector capability insights.
GovernWith Effective Practice: is a unique combination of Capability Measurement, Governance Standards (Industry Standards, Government Regulations, Governance Principles (inc ASIC 2019, AICD, & ACNC)) and Data Insights from over 600 Boards and 6,000+ Director contributions.
Disproportionate Impact: GW insights and recommendations highlight areas of governance that will have a disproportionate impact (positive or negative) an an organisation. It provides the Board the insight to act quickly on the biggest risks facing an organisation.
Triangulated Director Skills Assessment: GW has created an A.I. driven Director skills assessment that is much less subjective that current market alternatives based on directors, skills, experience and qualifications and continuously improves. See Fi Mercer explain: https://youtu.be/tUPojLjM-hM
Contemporary Governance: Whilst market alternatives provide varying degrees of professional governance, GW is the only provider to fully incorporate contemporary governance standards into a capability development solution.
Video Support: Rather than tell clients how to succeed with GW, we show them. By video recording in person client sessions, 'how to' tips, tricks and answering support queries, our clients have a reference that makes getting the most out of the platform easy.
Dedicated Success System: Our customer success process is designed to ensure your goals are embedded into our deliverables. A Joint Action Plan, co developed by you, the client, and our Customer Success team keeps the 12 month subscription period focussed and on track.
Decreased Subjectivity (in Director Skills Assessment)
GovernWith Plus technology platform uses A.I. and Triangulated Questionnaire to remove over 70% of subjectivity in the Director Self Assessment process compared to traditional approaches in the marketplace. This means higher quality Reporting, Insights & Recommendations, and better targeted Board Action Plans and Director Capability Development Plans
What is Actionable Governance?
Actionable Governance is built into all GovernWith services. Governance without the correct plans-of-action, nor the accountability tools to implement and educate is inefficient and a waste of resources.
Actionable Governance enables clients to make the highest impact, most efficient and effective use of their very limited available time for governance capability development.
Committed boards who implement their targeted and tailored governance plans and continuously update them, based on new capabilities, become High Functioning and succeed as an organisation where others fail
As an individual, how much time can I expect to invest in this process?
As a Director, your time commitment throughout the assessment and planning phase should be no more than 3-4 hours over a 4-month period. This time commitment consists of:
Induction - 15 minutes

Initial Review Stage

Board Governance Assessment- 45 minutes

Director Skills Matrix Capability Assessment - 45 minutes

Confidential Director Interviews (if applicable) - 30 minutes

Planning Session/Action Plans - 60 - 120 minutes
Time invested in the capability building phase will depend on the actions agreed to and assigned to each individual member. As the leader of the process, Chairs can expect to spend some additional time reviewing the evaluation results and prepare for the planning session.
What is included in my BOARDROOM PLUS subscription?
Subscription to our flagship product - BOARDROOM PLUS - gives Boards, Directors and in some cases Executives continued access to their assessment results at both the individual and group level.
Subscription includes access to the following capabilities:
Independent Review

Board Governance (Group)
Director Skills (Individual)

Governance Capability Development

Board Action Plans (Group)
Director Development Plans (Individual)

Board Succession (Director Transition Management)
Sector Specific Governance
Customer Success System
The initial review process is led by a 45 minute Board Governance Assessment and a 50 minute Director Skills Matrix Assessment.
Both assessments provide the data to enable deep, actionable insights and targeted development recommendations, delivered your own live dashboard.
Reports are instantly available, which can be used for:
Accreditation
Capability Development: building, monitoring and reporting progress on individual and/or group action plans
Board succession planning
Your subscription provides access to an every growing wealth of governance resources including manuals, templates, webinars and governance video. All within the one, easy to use platform.
How easy is the online platform to use if I am not very confident with computers?
GovernWith products (BOARDROOM PLUS, SUBCOMMITTEE PLUS and EXECUTIVE TEAM PLUS) are easily accessible online, easy to use and designed for people of all computer skill level.
Along with the platform being easy to use, we have an extensive collection of how-to videos and a dedicated Customer Success Team to help you by at any stage of your Governance journey.
Who is Fi Mercer?

Fi Mercer is CEO and Founder of GovernWith.
MBA (Major Governance and Ethics), GAICD, Grad Dip Impact Leadership, Grad Dip Community Health, Registered Nurse, Registered Coach and Mentor. She has completed entrepreneurship, innovation and venture capital studies at Haas Business School, Berkeley, California.
Fi is a governance, director, review and development specialist, governance data expert and successful entrepreneur. With 30 years leadership experience, both executive and governance, in the Health and Primary Care, Human Services, Education, Not for Profit and Business sectors.
She is a highly sought after Chair, Director, Governance Speaker & Facilitator.
Fi has significant skills, expertise, and experience in supporting Boards and Executives to review and develop their corporate, sector, ESG, professional, contemporary and behavioural governance to be effective. She also has significant experience in supporting Directors and Individuals who wish to be on boards for their skills metrics, succession, recruitment, induction and development requirements.
She can be found on LinkedIn. Please feel free to connect: https://www.linkedin.com/in/fimercer/
Is my Data Secure?
All GovernWith data is securely encrypted and domiciled on Amazon servers in Sydney, Australia.
Close to 100% of alternative governance solution providers use Survey Monkey, a simple survey tool based in the USA.
Governance Success
Becoming High Functioning
Governance Success requires a Board to be High Functioning, on a continuous basis, regardless of circumstances.
A High Functioning Board makes high impact decisions and demonstrate effective leadership on a continuous basis.
It's the strategic, continuous development of Chairs, Directors, Executives and their respective teams (Board, Executive and Sub Committees) and Director transition management (Board Succession) over multiple periods that ensures governance success.
The ability to be High Functioning is now measurable at GovernWith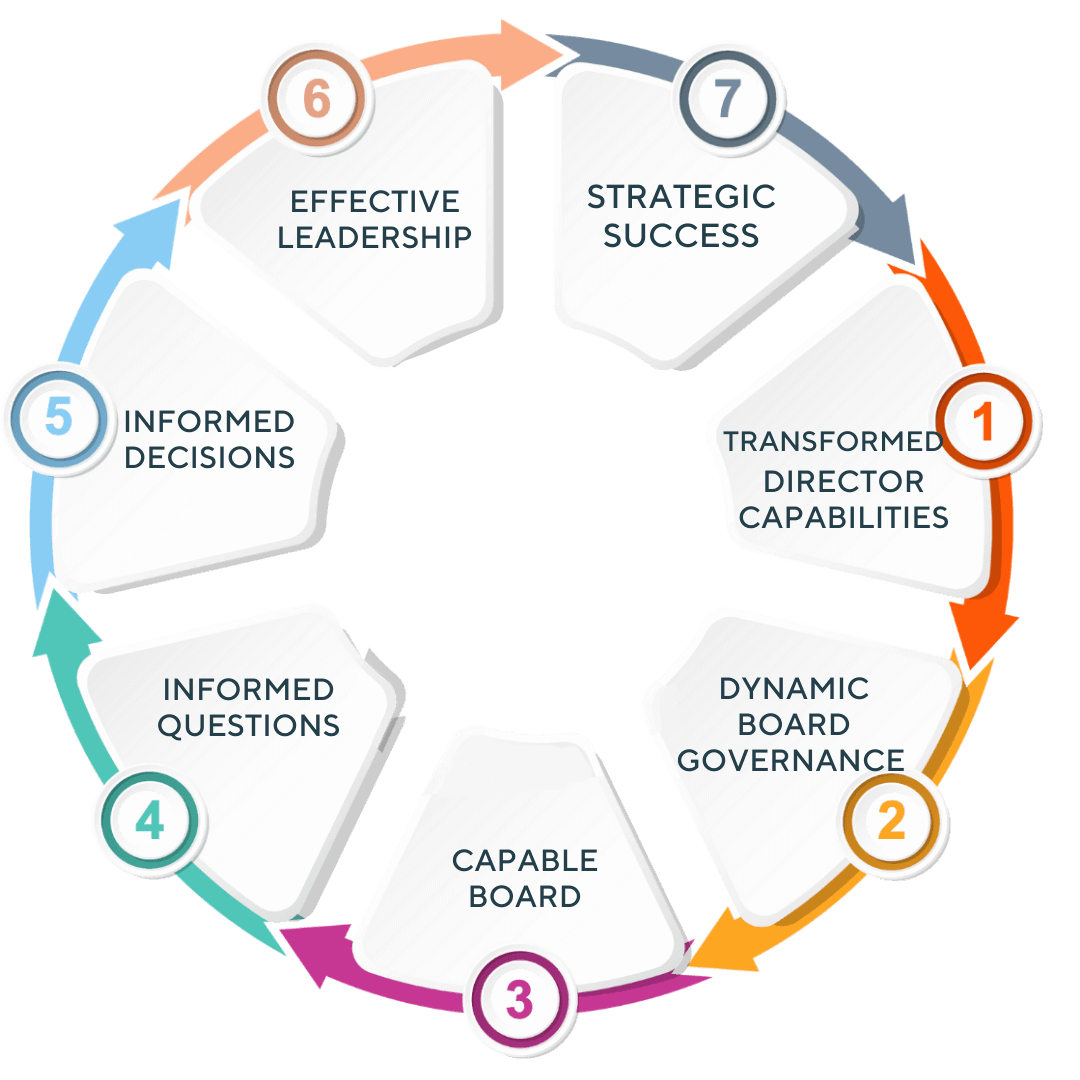 DISCOVER
Governance Products